Milwaukee Wireless Internet Service Provider for Business
| | | |
| --- | --- | --- |
| | Milwaukee Wireless Internet Service Provider for Business | |


We offer Milwaukee wireless Internet service for business customers who need highly reliable
Internet access in areas with and without fiber service. Our fixed wireless connections are perfect for
primary connections and redundant failover service. We have both WIMax and LTE fixed wireless
service, so we cover the whole area with qualoity Internet service with competitive rates.

Please click below to request a quote for:
Milwaukee Wireless Internet Service

You can also call us at 1-800-400-2246 for a free consultation.

Fixed Wireless provides diverse, affordable Ethernet connectivity that is scalable bandwidth from 10 MB
to Gig-E and a fully managed solution minimizes your upfront investments. Fixed wireless technology uses
a fixed beam or transmission from one radio to another. This is different than wireless technologies that
support mobile phones, which can lose connectivity when moving from cell site to cell site. Fixed wireless
is as reliable as any comparable technology, which delivers a 99.99% uptime.

Below are our Milwaukee wireless Internet coverage area maps, we also offer
high cap LTE service outside of this area, for full coverage in the Milwaukee area.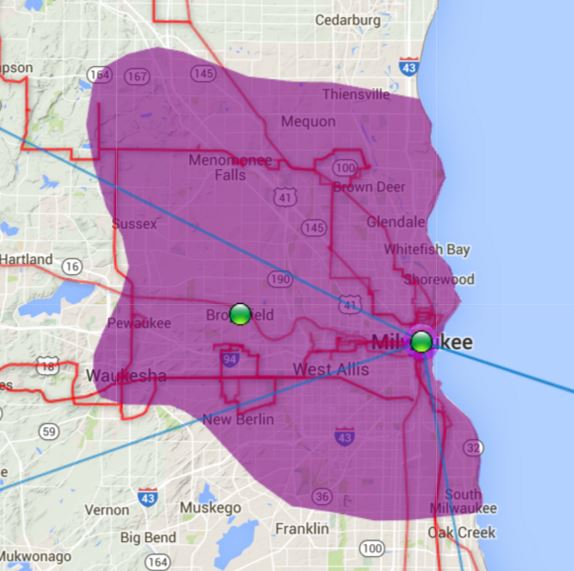 Below are the areas where we can help you locate fixed wireless connections:
Atlanta | Austin | Baltimore | California | Chicago | Dallas | Ely NV | Gilroy, CA
Fort Lauderdale | Fort Worth | Houston | Las Vegas | Los Angeles | Miami
New York | New Jersey | Orlando | Orange County | Philadelphia | Phoenix
Rockwall TX | Sacramento | San Antonio | San Diego | San Francisco
Seattle | Ventura | Oakland, Alameda and San Leandro CA | Vernon CA







Main Page | 4G Wireless | Fiber Internet | Gigabit Ethernet | Request Quote